Marwari Bhoj is situated in the Metro Plaza Complex. This is the only pure vegetarian (without onions) restaurant in Meerut whose speciality is pure vegetarian Indian food with indian aroma filled in it.Here you will find that each dish will have its own distinctive flavour and aroma which cannot come from any Curry Powder but from spices which have to be separately prepared each day.They are one of the best in the area and serves quality food.They also have arrangement for small parties and has a banquet hall with them.Staff is very cordial and impressive.
... more

Special Marwari Thali
Rajasthani food is incomplete without the mention of daal-baati. It is considered the staple food of the region. The dish is simple and nutritious apart from being yummy.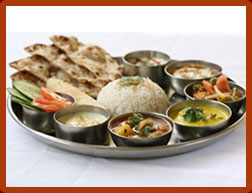 Marwari Bhoj


Metro Plaza, Baghpat Gate,
Meerut City
Phone:-
0121-2533191, 4003508
Mobile:-
09927959818,
09837729999
e -mail us at :
info@marwaribhoj.in
arvindgupta9999@yahoo.com